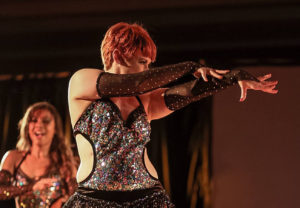 Ava Apple, a San Francisco native, started dancing as a child, and has been teaching & performing since her teens. She has performed & taught throughout the Americas, Hong Kong, Italy, The Netherlands, and Israel, and has danced competitively throughout the US in Salsa, Hustle, Theater Arts, American Rhythm, and West Coast Swing, winning many titles along the way with her various dance partners.
Her dance training includes many genres/styles and many renowned instructors – Just a few of which are listed here
Salsa/Mambo – Ceci Chevere, Eddie Torres, Addie Rodriguez
Ballroom & Latin – Bob Dean, Rhona Pick, Gene Jennings
Jazz – Judith Simone, Joseph Taylor, Pamm Drake
Flamenco – La Monica, La Tania, Virginia Iglesias, Miguel Santos
Various genres of Folk Dancing – Puerto Rican, Italian, Filipino
Ballet – Maria Balagot, Kathy Mata
Tap – Jeanne Pounds, Pamm Drake
Ava has received awards for her contribution to the world of Salsa & Latin Dance at
The 2002 West Coast Salsa Congress,
The 2003 SF Salsa Congress, and
The 2003 Mission Cultural Center for Latino Arts 25th Anniversary celebration.
Along with her partner Rodolfo Guzman, Ava is co-owner of Symbolic Dance & Fitness in San Francisco, Ca., and is director of The Latin Symbolics dance teams of the West Coast.
Many well known dancers got their start in Ava's classes and on her dance teams, including World renowned brother & sister duo Junior & Emily Alabi,
the high flying duos of Alex Lee with his two partners – Chi Le, & Kim Nodora,
Salsa power couple Jhon Narvaez & Liz Rojas,
and Ciro & Mary Ann Martinez – directors of La Evolucion Dance Company, to name just a few.